7th Danube Participation Day on 21.10.2020
The 7th Danube Participation Day takes place on the 21st of October 2020, 10.00-14.00 CET - back to back with the EUSDR Annual Forum.
This year, the Danube Participation Day is dedicated to "Youth in the EU Danube Strategy. Towards a common vision". Against this background, the conference is addressing needs and possible actions to
...
weiterlesen »
---
9th Annual Forum of the EUSDR on 22.10.2020
9th Annual Forum of the EU Strategy for the Danube Region (EUSDR)

"Harmonious and sustainable development of the Danube Region" 22 October 2020
---
Climate Green Project extended until October 2020 + Final Conference 29.-30. September 2020
Závěrečná konference projektu Klimatická zeleň
Final Conference of the ATCZ142 Climate Green Project

Adaptace na klimatické změny pomocí zelené infrastruktury
Adaptation of Green Infrastructure to Climate Change
29. - 30. září / 29. - 30. September 2020
Spolkový dům Slavonice / Community
...
weiterlesen »
---
Diverse use of multi-use Hedges for sustainable production, to reduce erosion and to increase regional added value
Multi-use hedges offer additional benefits and added value beyond the normal function of windbreak hedges due to their multifunctionality. In addition to the usual hedge plants, multi-use hedges also contain more (wild) fruit, nut trees
...
weiterlesen »
---
Climate Protection through Soil Protection plants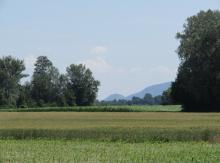 Research study prepared by Bio Forschung Austria as part of the ATCZ142 Climate Green Projekt

Checklist climate fit
Soil Protection Systems


1. Selection of tree species
To ensure that hedges planted out today are well adapted to the climate in 20-30 years when they
...
weiterlesen »
---
Archiv:
1
2
3
4
5
6
7
8
9
10
11
12
13
14
15
16
17
18
19
20
21
22
23
24
25
26
27
28
29
30
31
32
33
34
35
36
37
38
39
40
41
42