BOKU - Soil Walks at Gfoehl - on June 11 and 18, 2010
On June 11 and 18, under the expert leadership of Prof. Dr. Walter Wenzel soil walks took place at the urban municipality of Gfoehl. On a route through the municipal area, the history of the soil and landscape of
...
weiterlesen »
---
Europe Forum Wachau - at the Goettweig Monastery on June 26 and 27, 2010
"Individually, we are words,
altogether - a poem.
Europe shall not remain a word,
Europe shall become a poem."
. . . with these words Mr. Landeshauptmann Dr. Erwin Proell emphasized the importance of a united Europe.
Within the course
...
weiterlesen »
---
Pilot Competition in CZ - on June 17, 2010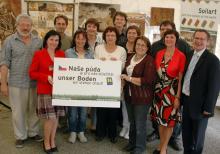 On June, 17 the final event of the pilot competition "Painting with the Colours of the Earth" took place at the SLAVONIC CASTLE SITE AT MIKULCICE, a remote department of the Masaryk Museum
...
weiterlesen »
---
20th Year Anniversary of the Danube Countries Working Community - May 17, 2010
St. Poelten (OTS/NLK) - It was exactly on that day, twenty years ago, when the Danube Countries Working Community were founded by 14 members in the year 1990 with the target to cooperate on a supranational basis.
...
weiterlesen »
---
European Soil Alliance held a Meeting in Tulln - on May 6 and 7, 2010
"Soil is the basis for our lives. More than 90 % of the whole food stem from the soil. It is a matter of sensibly using and carefully protecting our soil", stated Environmental Counsel Dr. Stephan Pernkopf.
Meeting
...
weiterlesen »
---
Archiv:
1
2
3
4
5
6
7
8
9
10
11
12
13
14
15
16
17
18
19
20
21
22
23
24
25
26
27
28
29
30
31
32
33
34
35
36
37
38
39
40
41
42
43
44
45
46
47
48
49