Flexible Greening Management in Viticulture
In the vineyards with their sloping areas, greening is essential for protecting the soil from erosion. However, many winegrowers fear that in dry periods, the greening could become competitors for the
...
weiterlesen »
---
CALL for the submission of EIP-AGRI1 projects in types of projects 16.1.1 and 16.2.1 of the special LE project support Directive 2
---
Our Soil - We Live on It 17.6.2017 in Schrattenthal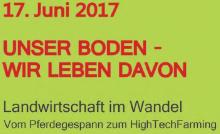 A project by: Anita Windhager
Project management: Anita Windhager, Dipl.Ing. Andrea Schubert, Jürgen Spindler


Soil is an indispensable and irreplaceable resource both as a source of production and as a regulator of the environment - and
...
weiterlesen »
---
24th Conference on Soil Protection and Sustainable Land Use 26th and 27th of April 2017 in Tulln and Absdorf
The EU Strategy of the Danube Region (EUSDR) connects 14 countries and more than 100 Million people to a field of action for common visions, projects and initiatvies. The Main Topics of this
...
weiterlesen »
---
Organic Without Tillage 25.4.2017
Organic without tillage: roller crimper method

Jeff Moyer, organic farmer and CEO, Rodale Institute, USA
Plan for the Poor: The Foundation for Farming Method

Brian Oldreive, farmer and founder, Zimbabwe
Earthworm + RW composting + Presentation TeamAgriculture:

Alfred Grand, organic
...
weiterlesen »
---
Archiv:
1
2
3
4
5
6
7
8
9
10
11
12
13
14
15
16
17
18
19
20
21
22
23
24
25
26
27
28
29
30
31
32
33