Soil protection systems / wind protection systems
What are soil protection systems?

Soil conservation systems are stocked with native trees and / or shrubs in our cultivated landscape, that
serve agriculture to safeguard its production
provide habitat for the natural fauna and flora
bring the population a varied landscape
They used to be called
...
weiterlesen »
---
Humus management and regional bio-fertilizer production
Why humus?

Humus is the basis of soil fertility. There is hardly any soil property that is not positively affected by the humus.
Humus improves nutrient supply
Humus improves the plant availability of main and trace nutrients.

...
weiterlesen »
---
Humus accounting in practice
In order to sensitize practitioners such as farmers and (environmental) council members to the importance of soil humus in terms of climate protection and mitigation of climate change problems, the "Humus Accounting for Practice" project in six different regions of Lower Austria has organized six introductory seminars on
...
weiterlesen »
---
Soil is precious, it lives and needs our protection. We'll take a look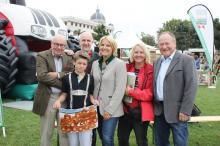 At the harvest festival on Heldenplatz, Austrian young farmers thanked for their harvest and at the same time presented the wide range of their daily work: the production of high quality food, the care of our unique cultural landscape,
...
weiterlesen »
---
Land & Raum 2 2015 "Networks in the Danube Region"
...
weiterlesen »
---
Archiv:
1
2
3
4
5
6
7
8
9
10
11
12
13
14
15
16
17
18
19
20
21
22
23
24
25
26
27
28
29
30
31
32
33