Humus as a Key to Soil Fertility
PERNKOPF: Crucial Contribution to Climate Protection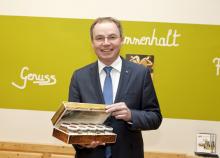 St. Pölten (2011-02-12); "Lower Austria is the European best-practice region in preventive soil protection. 77 Lower Austrian municipalities, regions, and schools are committed to a large number of projects. Humus management is the key to soil fertility, and a crucial contribution to the protection of soil, of climate and preventive flood protection", emphasizes the Regional Minister for the Environment, Dr. Stephan Pernkopf, on the occasion of the 2011 World Soil Day.
Humus management in the soil protection region of Lilienfeld
A sufficient proportion of humus is a central factor for safeguarding and maintaining the fertility of agriculturally used soils.
According to calculations by the Agricultural Chamber (Upper Austria), Austrian soils are able to store 500 to 4,000 kg of CO2 per year and hectar. An improved and utilization-oriented humus management is therefore also able to make a precious contribution to climate protection.
A humus balance shall be drawn up using the example of the first Lower Austrian best-practice region (16 municipalities of the environmental association of Lilienfeld) in cooperation with the Agricultural Chamber, which comprises arable land as well as forest area (Lilienfeld is the most densely wooded Austrian district). The energy concept for the region shows a potential of more than 700,000 MW/h of recoverable biomass. One of the main targets of the project is the demonstration of sustainable cultivation of areas. Furthermore the positive effect of optimized compost economy, where improvements relevant to climate protection by means of targeted humus management are shown and communicated to a broader public.
2012 Soil Activities
International competition of schools "Painting with the Colours of the Earth" - More than 25,000 children and teenagers attending Lower Austrian schools have already dealt in a creative manner with soil colours, extracted directly from domestic soils. From February to April 2012, within the framework of two EU projects, namely SONDAR SK-AT and SONDAR HU-AT, a common school competition from the 3rd to the 13th form with Slovak, Hungarian and Lower Austrian schools participating will be performed. Participating schools receive a paint box containing soil colours from all three countries. Paint boxes and colours are produced by social projects. A creative seminar for interested male and female educators under supervision of soil colour artist Prof. Irena Racek will be held on January 26 in the Lower Austrian Provincial Museum.
International events and projects
Experts in soil and sustainability from all over Europe will come to St. Poelten for an exchange of experience next year. On March 28 and 29, a conference of a number of working groups of the Working Community of Danube Countries is scheduled. The International Annual Conference of the European Land and Soil Alliance (ELSA) will take place on May 31.
Through the SONDAR (Soil Strategy Network in the Danube Region) series of projects Lower Austria cooperates with its neighbouring countries, and treats with subsidy from the EU the scopes of "soil and water interaction" (Lower Austria - Slovakia), and "soil as a filter and buffer" (Lower Austria - Hungary). In 2012, the project of "improving soil quality - efficient measures against erosion" (Lower Austria, Vienna - Czech Republic) shall be launched.