Our Soil – SONDAR – information tour
On May 5, 2012 at the Tulln main square the Environmental Festival took place on the Day of the Sun
The great Environmental Festival on the "Day of the Sun" at the main square in Tulln focused on a resource-saving,
...
weiterlesen »
---
Network of Soil Protection links Lower Austria and the entire Danube Region
Pernkopf: Cooperation with countries along the Danube strengthens regions through exchange of experience and practical examples of implementation!
St. Poelten (04/04/2012) The province of Lower Austria has been an active member of the European Land and Soil Alliance since 2003, and
...
weiterlesen »
---
Pebble & Tassel – Exposition on Variety of Soil in the Lower Austrian Provincial Museum
Pernkopf: All of us benefit from soil protection!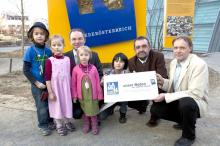 St. Poelten, 03/17/2012: Dr. Stephan Pernkopf, Regional Minister of the Environment, has opened the new exposition of "Pebble & Tassel" on Saturday in the Lower Austrian Provincial Museum. The new
...
weiterlesen »
---
Take the Paintbrush, Ready, Go!
Kick-off of Cross-Border Competition of "Painting with the Colours of the Earth"
The soil colour paint boxes have been finished and distributed to schools, the period of application has ended, and so the way to the official kick-off of the competition is open.
Within the framework of the
...
weiterlesen »
---
New Date of Submission – 2012 Creative Competition "Our Homeland – a Place for Feeling Good"
On account of the large number of requests and interest from Lower Austrian schools, educators, and pupils, the working group, consisting of the Forum Land, the Department of Rural Development of the Office of the
...
weiterlesen »
---
Archiv:
1
2
3
4
5
6
7
8
9
10
11
12
13
14
15
16
17
18
19
20
21
22
23
24
25
26
27
28
29
30
31
32
33
34
35
36
37
38
39
40
41
42
43
44
45
46
47
48
49