Austrian's celebrate 100th birthday
The ground beneath a scouts foot is to be the center of Austria's largest Campfire, taking place from August 2nd-12th 2010 at Laxenburg's palace garden. Containing a soil laboratory, games and a station for painting with colors of the earth the young scouts facing the chance to get
...
weiterlesen »
---
Soil Station during one Week School Trip to Schoenbrunn, June 28 to July 1st, 2010
Within the framework of the one week school trip, which was initiated and
...
weiterlesen »
---
BOKU - Soil Walks at Gfoehl - on June 11 and 18, 2010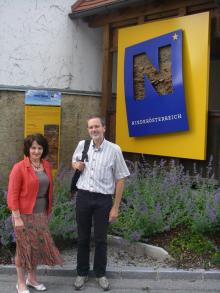 On June 11 and 18, under the expert leadership of Prof. Dr. Walter Wenzel soil walks took place at the urban municipality of Gfoehl. On a route through the municipal area, the history of the soil and landscape of
...
weiterlesen »
---
Europe Forum Wachau - at the Goettweig Monastery on June 26 and 27, 2010
"Individually, we are words,
altogether - a poem.
Europe shall not remain a word,
Europe shall become a poem."
. . . with these words Mr. Landeshauptmann Dr. Erwin Proell emphasized the importance of a united Europe.
Within the course
...
weiterlesen »
---
Pilot Competition in CZ - on June 17, 2010
On June, 17 the final event of the pilot competition "Painting with the Colours of the Earth" took place at the SLAVONIC CASTLE SITE AT MIKULCICE, a remote department of the Masaryk Museum
...
weiterlesen »
---
Archiv:
1
2
3
4
5
6
7
8
9
10
11
12
13
14
15
16
17
18
19
20
21
22
23
24
25
26
27
28
29
30
31
32
33
34
35
36
37
38
39
40
41
42
43