Soil Protection Plants in Lower Austria - Activities
ATTETION! Excursion multi-use Hedges on 23.11.2021 cancelled due to current COVID-situation, next Excursion on 08.03.2022
Ladies and gentlemen,
Unfortunately, the multi-use hedge excursion on 23.11.2021 has to be cancelled due to the current CoVid situation.
Thank you for your interest and we hope that the next multi-use hedgerow field trip can take place on 08.03.2022 and that we can welcome you on this date.
With kind regards
Your Bio Forschung Austria team
----------------------------------------------------------------------
Hedges ensure that the fertile topsoil is protected from wind erosion and improve the microclimate. This is becoming increasingly important as an adaptation to climate change. They provide habitats for insects, birds and mammals, thereby promoting biodiversity and beneficial insects. Multi-use hedges are established to provide additional benefits to the farm beyond these positive effects, such as the use of wild fruits and nuts. We visit existing multi-use hedges on the Binder farm and analyze them together with the farm manager with regard to benefits, biodiversity and protective function. Other uses of multi-use hedges will also be discussed. Multi-use hedges are a proven agroforestry system suitable for Central European agricultural and climatic conditions.
Date: Tuesday, 23rd November 2021, Start: 02:00 p.m. CANCELLED
Speakers: Franz Binder, Dr. Erwin Szlezak, Dr. Eva Erhart
Costs: free of charge
Location: At the wayside shrine (Marterl) between Höbersdorf and Untermallebarn (L1089), 2011 Höbersdorf. Parking in the field path
Registration: register here until 18th November 2021. Additional people please register separately.
Please do not hesitate to contact us if you have any questions (+43 1 4000 49150).
Diverse use of multi-use Hedges for sustainable production, to reduce erosion and to increase regional added value
Multi-use hedges offer additional benefits and added value beyond the normal function of windbreak hedges due to their multifunctionality. In addition to the usual hedge plants, multi-use hedges also contain more (wild) fruit, nut trees and shrubs, dye plants, precious woods or even fast-growing woody plants or grasses that can be used for energy production.
Hedges: Wind braking and positive effects on the microclimate
Hedges reduce wind speed up to a distance of 25 times the hedge height on the downwind side and up to 5 times on the upwind side. They protect the soil from wind erosion and ensure that fertile topsoil is preserved. By reducing air movement, they have a positive effect on the microclimate and the local water balance, which is becoming increasingly important in view of climate change.
Promotion of biodiversity
Hedges provide insects, birds, and mammals with a source of food, hiding places and nesting opportunities, thereby encouraging beneficial insects. All these factors have a positive effect on the agricultural yield of fields protected by hedges. The yield-enhancing effect extends to a distance of 10 times the hedge height and yields up to a 10 percent increase.
Multi-uses of a hedge
Multi-use hedges are created in such a way that they bring additional benefits to the farm beyond these positive effects. A typical example of such an additional bonus is the use of (wild) fruit and nuts from the multi-use hedge for the production of local or regional specialties such as jams or premium brandies, or the use of native wild herbs from the hedge environment.
In the lee of the hedge, a zone of distinctively dry warm microclimate is created in the immediate vicinity, which can be used for the production of drought-loving healing and aromatic herbs. It would also be possible to plant a hedge with trees or shrubs inoculated with mushroom mycelium for the production of truffles, porcini mushrooms & Co.
Of course, the wood from the hedge can also simply be used for energy, as logs by removing individual trunks or by creating a two-part hedge as a short rotation area of which one row is used alternately, then the other rows. Miscanthus could also be created as a hedge. In the same way, a special hedge could be oriented towards the production of precious wood for carpentry, woodturning or carving.
Multi-use hedges, in combination with agricultural land, are an agroforestry system suitable for Central European environmental and economic conditions.
The increase in farm value added achieved through utilization compensates for the costs of establishing and maintaining the hedges and the loss of profit due to the elimination of agricultural use on the hedge area.
The concept of the multi-use hedge and the term "multi-use hedge" were developed by Dr. Wilfried Hartl and Dr. Eva Erhart, Bio Forschung Austria. In 2003, farmer Franz Binder in Untermallebarn planted the first multi-use hedges on his own fields according to these ideas with the support of the Lower Austrian Agricultural District Authority.
Downloads:
The project "multi-use hedges" is supported by the Lower Austrian Landscape Fund.
Climate Protection through Soil Protection plants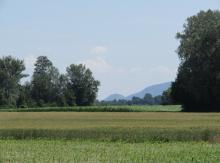 Research study prepared by Bio Forschung Austria as part of the ATCZ142 Climate Green Projekt

Checklist climate fit
Soil Protection Systems


1. Selection of tree species
To ensure that hedges planted out today are well adapted to the climate in 20-30 years when they are fully grown, the expected climate change should already be taken into account when selecting the woody species.
Areas with a climate similar to that expected in the planting area in 20-30 years can be found southeast of the planting area and/or at lower altitudes than the planting area. Plants from these areas will probability be well adapted to the climatic conditions then prevailing in the planting area in 20-30 years.
Therefore, site types and young plants from these areas of origin are used, and species that also thrive there should be selected.
Species that are already at the edge of their heat and drought tolerance in the planting area should no longer be planted.
2.

Avoidance of further stress factors by choosing the right location
In order to spare newly planted hedges additional stress, the location requirements of the woody species in terms of moisture (wet/dry), soil type (sandy/clay), pH value (acidic/basic) and humus content (rich in humus/poor in humus) should be considered even more than before .
In addition, the plants should be given sufficient space to stand and negative environmental influences such as de-icing salt, herbicides, game bites and other things should be kept away.
Mixed stands are preferable to monocultures because diseases and pests cannot multiply so easily here.
If individual species fail in mixed stands, the gaps can easily be closed by neighboring plants belonging to other species. Planting in autumn allows the plants to take root over the winter in the soil, what is still warm in summer but already moistened by autumn rainfall. Plants rooted in this way can more easily survive a drought in spring and early summer. While the soil already dries out from above in spring, the roots of the woody groves planted in autumn are already in deeper, more humid soil layers.
In the case of rootless deciduous shrubs, it is also advisable to prune the shrubs vigorously in order to reduce evaporation losses via the above-ground biomass.
Evergreens can assimilate on mild winter days and gain new reserves for winter root growth.
5.

Optimisation of the maintenance of hedges and soil protection plants
For tall hedges and tree hedges, and especially if the windbreak function of a hedge is to be permanently maintained, a plenter-like care of the hedge is recommended.
In the case of plentering as permanent management of high and tree hedges, the removal of individual trees (overhangs) is accompanied by a hack of the lower shrub layer. The shrubs should be put on the stick in sections, always only in a section of a hedge, and staggered in time at intervals of a few years.
Through this type of care, the hedge is periodically thrown back into a "light phase" and rejuvenated. An overall stable, cyclically oscillating ecosystem "shrub hedge" between shade and light phases is formed and the hedge can fully fulfill its functions in the long term.
Download the study "Climate protection through soil protection systems" (German)