Cordially welcome to OurSoil.at!
Here you will find current information concerning the activities of the Department of Rural Development of the Office of the Lower Austrian Provincial Government and their partners.
You will find a large number of offers for seminars, further education and so on at the soil service portal. For schools, there is a soil colour online competition. You will find much detailed information on our soils in Lower Austria and the activities of the Lower Austrian membership municipalities of the European Land and Soil Alliance under the menu item of Our Soil.
We wish you an informative time with OurSoil.at!
soil info
News & Updates
22nd Conference of the Working Community of the Danube Regions
The Danube region strategy (EUSDR) connects the area of 14 states aond over 100 milion people to a workingfiled for common visions, projects, and initiatives. The topics:
Intensification of land use and effects on soil as the primary basis of production
Socio-ecological innovations in
...
weiterlesen »
---
SONDAR CZ-AT & ELSA Meeting at Lednice
From May 14 to 16, 2014, at Lednice in the Czech Republic the international SONDAR CZ-AT & ELSA meetings on the topics of "Soil quality / soil erosion / soil sealing / soil awareness" took place
This event was subsidized by the European Union, and the
...
weiterlesen »
---
SONDAR: Sustainability in the Danube Region
The EU Strategy for the Danube Region (EUSDR) joins the living environment of 14 nations and more than 115 millions of people into a sphere of activity for common visions, projects and initiatives. By means of the SONDAR sustainability network (Sustainable Operations Network in the Danube
...
weiterlesen »
---
SONDAR & SOPRO at Conference of Danube Region Strategy: Skills, Competences & Inclusion – December 5 and 6, 2013 in Vienna
Within the framework of this international conference of stakeholders, at which representatives of 13 countries in the Danube region were present, a Lower Austrian delegation, consisting of representatives of the Working
...
weiterlesen »
---
Soil and Land Alliance Network Meeting on November 6, 2013 in Tulln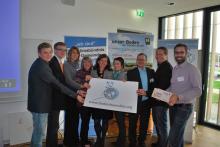 More than 100 municipalities in Austria are already members of the European Land and Soil Alliance. 77 persons have successfully completed the training course for municipal soil conservation representatives. On November 6, stakeholders from all over Austria, who stand for
...
weiterlesen »
---
Archiv:
1
2
3
4
5
6
7
8
9
10
11
12
13
14
15
16
17
18
19
20
21
22
23