Village Revitalization and Spatial Planning - Course Municipal Spatial Planning and Soil Officers 2022 - Part I: 31.05.+ 01.06.2022; Part II: 13.+14.06.2022
Dear Ladies and Gentlemen!
Optimize your spatial planning and save enormous infrastructure costs. This course offers all information on modern spatial planning at the latest state of the art for all municipal representatives. Inform yourself and your employees and
...
weiterlesen »
---
20 years Bodenforum Austria - Spring Meeting on 16.+17.05.2022
The Federal Environment Agency and the Austrian Soil Science Society invite you to the spring meeting of the Soil Forum Austria 2022:

Meeting: 20 years of Soil Forum Austria
"Soil and the City": soil in the city - cities and soil: Soil Conservation in the Urban Context


...
weiterlesen »
---
Article "Hedge Landscape - A Plea for Soil Protection, Biodiversity and Quality of Life"
---
Excursion: Multi-Use Hedges on 08.03., 05.04., 04.05. and 31.05.2022 in Höbersdorf, Lower Austria.
New dates:
Excursion on Tue, April 5, 2022, 14:00-16:00
Excursion on Wed, May 4, 2022, 14:00-16:00
Excursion on Tue, May 31, 2022, 14:00-16:00
Speakers: Franz Binder, Dr. Erwin Szlezak, Dr. Eva Erhart
Costs: free of charge
Meeting point: At the wayside shrine between Höbersdorf and Untermallebarn (L1089),
...
weiterlesen »
---
"ERDKomm"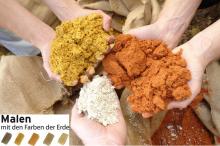 PRODUCTION OF SOIL DYES FROM LOWER AUSTRIA - AS A COMMUNICATION TOOL FOR SOIL HEALTH AND FOOD SECURITY IN LOWER AUSTRIA COMMUNITIES AND IN EUROPE
Every time has its challenges. At present, this is probably climate change and, very topically, the Covid 19 crisis. Both of these issues
...
weiterlesen »
---
Archiv:
1
2
3
4
5
6
7
8
9
10
11
12
13
14
15
16
17
18
19
20
21
22
23
24
25
26
27
28
29
30
31
32
33
34
35
36
37
38
39
40
41
42
43
44
45
46
47
48
49
50
51