Opening of Earth-Colour Creative Center on May 17, 2009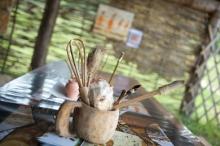 The Soil Colour Creative Center, under the leadership of Irena Racek, the artistic supervisor of the Lower Austrian soil campaign, showed colourful and strong signs of life on the occasion of a family day-out on the ground of the Neolithic village on the
...
weiterlesen »
---
8th International Annual Meeting of ELSA (May 7 and 8, 2009)
Soil protection means climate protection!
Soil protection in Europe has up to now largely been limited to the disposal of pollution legacy. Preventive soil and area protection, as well as the significance of soils for climate change are hardly perceived.
Climate change, however,
...
weiterlesen »
---