Soil & Land Alliance International – Activities at Temesvar, Vukovar and Budapest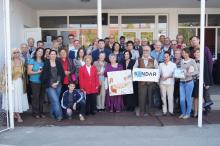 On October 6, at Temesvar in Romania a workshop on the topic of "Painting with the Colours of the Earth" took place within the framework of an event of the Constantin Brancusi Cultural Association and the Association of Writers. Furthermore,
...
weiterlesen »
---
SONDAR CZ-AT: Focus on Soil within the framework of the Traisen Brandy Fair
On November 10/11, 2012, the Traisen Brandy Fair with focus on soil took place at the market community of Traisen. Traisen is situated in the Soil & Land Alliance region of Lilienfeld, and it is therefore one of the
...
weiterlesen »
---
"Social Production" – Value Creation through Appreciation: Sustainable Opportunities for the Environment, Economy, and Society
9 partners from East Austria and West Hungary work on cooperation between economy, the public sector and social enterprises in the EU project of "SoPro HU-AT"
At the premises of the BENE AG company at
...
weiterlesen »
---
Department of Rural Development and Board of SENEC congratulate Governor Dr. Erwin Proell on 20 Years' Anniversary
Exactly 20 years ago, on October 22, 1992, Dr. Erwin Proell was for the first time elected Governor of Lower Austria, then still in the Lower Austrian Government Quarter in the Herrengasse in Vienna, and
...
weiterlesen »
---
Governor Proell: "Danube Region assumes essential key position for the whole of Europe"
Informal meeting of Foreign Ministers of the EU Strategy for the Danube Region in St. Poelten.
Download: JOINT STATEMENT
On Monday, October 22, in the Lower Austrian Landhaus (Government) Quarter in St. Poelten, the second informal meeting of Foreign
...
weiterlesen »
---
Archiv:
1
2
3
4
5
6
7
8
9
10
11
12
13
14
15
16
17
18
19
20
21
22
23
24
25
26
27
28
29
30
31
32
33
34
35
36
37
38
39
40
41
42
43