ENSA Meeting 2011 in Tulln
The Tulln University and Research Center hosted an international conference on the topic of awareness of soil, which shall contribute to a linking of associations, organizations and administrational institutions, on October 13 and 14, 2011. More than 70 representatives from ten European countries and also from overseas
...
weiterlesen »
---
Lower Austria Assumes Chairmanship of "Working Community of Danube Countries"
Governor Dr. Pröll: "Regions have a great significance for our common Europe "

The Province of Lower Austria will assume chairmanship of the Working Community of Danube Countries on January 1st, 2012. Today, Monday, October 3rd, in the
...
weiterlesen »
---
"Fair Play": Football Match of Climate Alliance on October 6, 2011
In St. Poelten, in the garden of Bio-Austria, an unusual football match took place within the framework of the "Green Days", an annual event of the Youth and Environment Platform JUMP. Its aim was not the victory, but insights into global
...
weiterlesen »
---
University and Research Center Opened in Tulln – Lower Austrian Soil Plate Awarded!
Tulln as a platform for soil protection in Europe

On September 29, 2011, Governor Dr. Erwin Proell handed over the Lower Austrian soil plate (see head photo) to the Rector of the University of
...
weiterlesen »
---
Soil Plate for Lichtenegg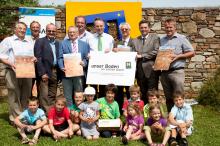 Pernkopf: Active municipalities further conscious treatment of soil
"More than 70 members of the Soil and Land Alliance render Lower Austria the region of soil conservation no. 1 in Europe. Active
...
weiterlesen »
---
Archiv:
1
2
3
4
5
6
7
8
9
10
11
12
13
14
15
16
17
18
19
20
21
22
23
24
25
26
27
28
29
30
31
32
33
34
35
36
37
38
39
40
41
42
43
44
45
46
47
48
49