Invitation 27th CONFERENCE OF THE WORKING COMMUNITY OF THE DANUBE REGIONS
UFT / BOKU TULLN KONRAD LORENZSTRASSE 24 A-3430 TULLN AN DER DONAU / AUSTRIA
Grandfarm & Grandgarden / Hausäckerstraße 3462 Absdorf
Hortical College and Research Institute - Schönbrunn / Station Zinsenhof
GENERAL THEME:
SOIL HEALTH
...
weiterlesen »
---
60 Jahre Bodenschutz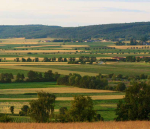 ---
Mission Board for Adaptation to Climate Change, including Societal Transformation
Commission launches work on major research and innovation missions for cancer, climate, oceans and soil
Today, Commissioner for Research, Science and Innovation Carlos Moedas officially launched the work on five major European research and innovation
...
weiterlesen »
---
Danube Conference 2019
Veranstaltung Donnerstag, 31. Oktober 2019
Danube Conference 2019 "Globalization, Geopolitics and Brexit: Potential prospects of action for the Danube Region"
Global linkages in commerce, economy, and tourism, as well as in environmental, education, technology, labor, cultural and media sectors have rapidly increased. Particularly after the end of state socialism, a sort of globalization euphoria emerged. Geopolitics, by
...
weiterlesen »
---
Niederösterreichs grenzüberschreitende Gesundheitskooperation
---
Archiv:
1
2
3
4
5
6
7
8
9
10
11
12
13
14
15
16
17
18
19
20
21
22
23
24
25
26
27
28
29
30
31
32
33
34
35
36
37
38
39
40
41
42
43
44
45
46
47
48
49
50
51
52
53
54
55
56
57